Colorado Springs Housing Market Summary
Status:
Extremely Strong Seller's Market
Supply: 352 Active Homes for Sale
(1200 is typically very low)
Demand: #1 Most Desirable Place to Live as of Dec 2021
Market Index: 94 (0-100, >50 seller's market) measures sales vs inventory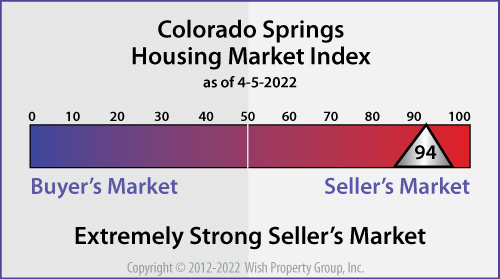 Colorado Springs Metrics
Median Home Price = $480,000 ⇑
$470,799 median price last month
$410,000 median price last year
Avg. Days on Market = 11 days ⇓
Average 13 DOM last month
Average 13 DOM last year
Inventory (supply) = 10.0 days ⇓
11 days Inventory last month
15 days Inventory last year
Home Sales (demand) = 1141 ⇑
⇑34.5% increase from last month
⇑0.53% increase from last year
Price Decreases = 15.6% ⇑
⇑4.7% from last month
⇑6.7% from last year
Distressed Properties = 3
Public Auction = 2 Sold in Mar
MLS Listings = 1 Sold in Mar
Total Sold in Feb = 3
Today's Interest Rate Trend
Interest Rates = 5.02% ⇑
Feb 2022 = 3.96% Avg. 30 Yr Fixed
Mar 2021 = 2.75% Avg. 30 Yr Fixed
Rates went up over 1.5% the last 3 months. Interest Rates trending up will slow increase in home prices.
Current Avg. Rates as of Today
Most Desirable Places to Live
Colorado Springs
Honolulu
Los Angeles
San Francisco
Portland, Oregon
Myrtle Beach, South Carolina
Naples, Florida
San Diego
Seattle
New York City
Boulder, Colorado
Pensacola, Florida
Denver, Colorado
Sarasota, Florida
Orlando, Florida
Port St. Lucie, Florida
Daytona Beach, Florida
Houston, Texas
Eugene, Oregon
Charlotte, North Carolina
Portland, Maine
Jacksonville, Florida
Boston
Austin, Texas
Chicago
---
Are You Thinking of Selling?
We Need More Homes for Buyers
Our Home Selling Program
Discover why we are the Best
Get a Monthly Market Update
know when the market changes
---
Colorado Springs Ranks # 6 Best Place to Live
As reported by US News & World Report Colorado Springs ranks as their #6 Best Place to Live. The Colorado Springs Housing Market is in an extreme shortage of available homes for sale and the demand for homes in Colorado Springs is very high, as a result there are typically multiple offers on homes. The demand is high because Colorado Springs is ranked consistently as one of the best places to live and most desirable places to live according to U.S. News & World Report and other agencies each year. Low supply and High demand for the limited number of homes available has caused an increase in Home prices not only last month but over the last several years. There are certainly many things that have contributed to inflating home prices but we won't discuss that here.
Absorption Rate, Inventory Expressed in terms of Days or Months
By using what is called an Absorption Rate calculation we can best determine whether we are in a Buyer's or Seller's market. Absorption Rate is a measurement of the rate at which a group of homes in a particular area get processed through the system.  So Absorption Rate does not measure inventory as to number of homes actively on the market but it measures inventory as to the number of days left of available homes. Housing Absorption Rate means that if no more homes were listed on the market as of today, it would take just 10 days (30 days per month x .30 absorption rate) for all the homes currently listed to be sold. We use our Absorption Rate calculation in our Market Index formula to determine a score that expresses the type of market that we are in.
Determining a Buyers or Sellers Market
So if the Absorption Rate is slow (higher number), that means there will be an increase in supply of homes which leads to a buyer's market.  If Absorption Rate is fast (lower number), that means there will be a decrease in supply of homes which leads to a seller's market. It is really a function of supply and demand where supply is the current inventory of homes and demand is what has been sold in a given time frame.
Absorption Rate is the best metric to determine if we are in a buyer's or seller's market. However, knowing average days on market, the percentage of recent price decreases, home price trends, and home sales trends are obviously good metrics to determine market conditions as well.
Colorado Springs Housing Market Summary
To summarize the Colorado Springs Housing Market forecast for 2022, we likely will have continued price increases and multiple offer situations through the year. Interest rates have increased over the last month by 1% which is huge within a month's timeframe and that will slow down the price increases over the coming months. Home inventory will likely triple to about 900 homes on the market in the summertime which will add competition among sellers. If this happens then multiple offer situations should go down which will favor buyers, although prices are not likely going to drop because of that. Currently the Colorado Springs median home price is $480,000 and the average home price in Colorado Springs is $541,663.
What's the Forecast?
Keep an eye on the amount of distressed homes hitting the market, such as Foreclosures and Short Sales, which will be a result of the mortgage forbearance programs starting to end which will cause a lot of stress on buyers that entered that program. Not to mention 40 year high inflation that is impacting energy costs and the pump and in natural gas due to the current administration's policies of shutting down energy production in the US. Increased property taxes given the higher home prices are affecting some fixed income homeowner's so some find themselves in a position wanting to sell. The Colorado Springs real estate market is projected to have the highest growth of any city in Colorado over the next 10 years and so higher prices are likely to stay around for a while unless interest rates go way up.
What should you do as a Buyer or Seller?
The most significant change from last month was the increase of interest rates by 1%. But that doesn't seem to have slowed the housing market down at all. It may have actually increased demand because of fear of missing out (FOMO) on lower interest rates. But if interest rates go up any more it may slow the rate of price increases. So keep an eye on interest rates as the higher they go it will really impact home prices by driving them down. As a result of these market conditions, as a Seller I would be selling if it is an investment home and you want to cash out and prepare for lower home prices in the coming years. But if you are a Buyer, you should be looking at if buying a home has a monthly payment lower than the rent you are currently paying.
Updated by the 7th day of every month. Metrics for Single Family Homes in the Colorado Springs region of El Paso County. Data provided by Pikes Peak Realtor® Services Corp., Absorption Rate calculations provided by Wish Property Group, Inc.®