Colorado Springs Housing Market Summary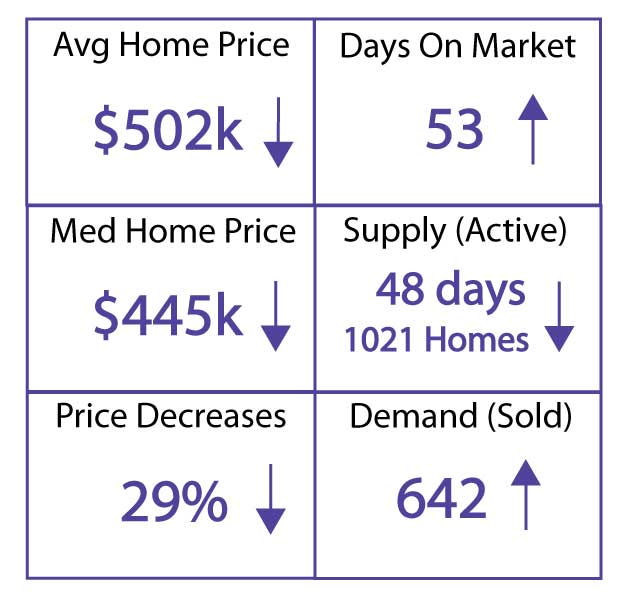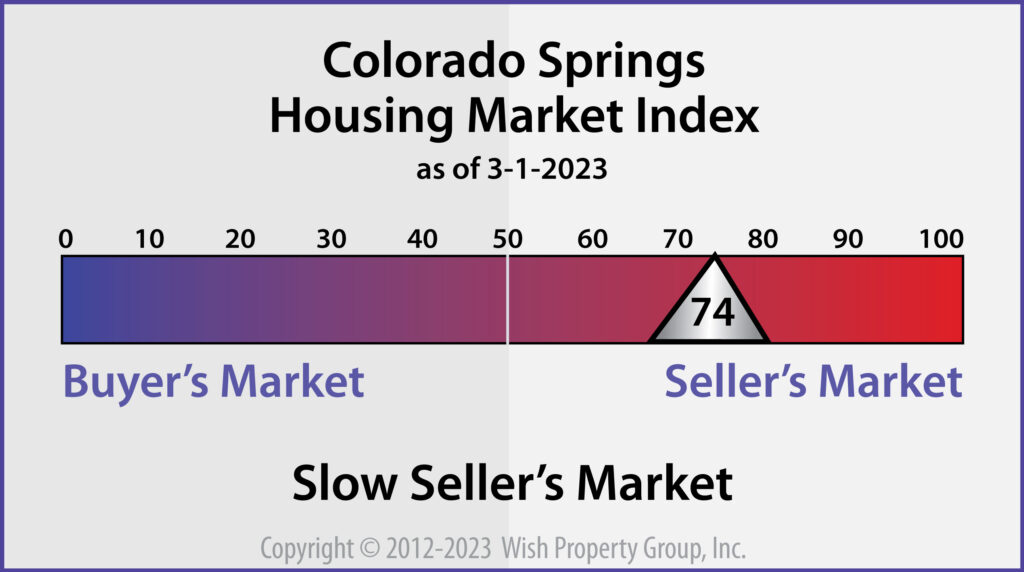 Colorado Springs Metrics
Median Home Price = $445,000 ⇓
$450,000 median price last month
$470,000 median price last year
Average Home Price = $502,291 ⇓
$523,000 average price last month
$523,000 average price last year
Avg. Days on Market = 54 days ⇑
Average 53 DOM last month
Average 13 DOM last year
Inventory (supply) = 48 days ⇓
58 days Inventory last month
11 days Inventory last year
Home Sales (demand) = 642 ⇑
⇑ 4% decrease from last month
⇓ 25% decrease from last year
Price Decreases on Actives = 29% ⇓
36% last month
Distressed Properties = 15 Sold Feb ⇑
Public Auction = 12 Sold in Feb
MLS Listings = 5 Sold in Feb
Total Sold in Jan = 15
Today's Interest Rate Trend
Conv Interest Rates = 6.95% ⇓
VA Interest Rates = 6.42% ⇓
FHA Interest Rates = 6.4% ⇓
Although the Federal Funds rate went up by .25% on Feb 1st making it the 8th rate hike starting last year. It is anticipated that there might be more .25% rate hikes in 2023.
Current Avg. Rates as of Today
Most Desirable Places to Live
As of July 21, 2022
Colorado Springs
Honolulu
Los Angeles
Myrtle Beach, South Carolina
San Francisco
Naples, Florida
Portland, OR
San Diego
Nashville, Tennessee
Sarasota, Florida
Daytona Beach, Florida
Boston
Jacksonville, Florida
Austin, Texas
Boulder, Colorado
Orlando, Florida
Houston, Texas
Charleston, South Carolina
Seattle
Charlotte, North Carolina
New York City
Tampa, Florida
Eugene, Oregon
Charlotte, North Carolina
Pensacola, Florida
---
Thinking of Buying or Selling?
Get a free consultation
Home Selling Program
Discover why we are Top Rated
Get a Monthly Market Update
know when the market changes
---
Colorado Springs Housing Market Summary
The question I get asked the most is; How's the market, do you think the market is going to crash? Let's look at our headlines here and analyze what each of these mean and try to determine what the market is doing. In March 2022 my short answer was that I don't think the market is going to crash any time soon, not this year anyway. Now here in March 2023 we can see the market is declining for sellers and it is harder to sell a home. But the housing market certainly is not crashing, so you could say it is correcting.
What's the Outlook for the Colorado Springs Housing Market?
I do think it is quite possible that housing market prices will correct downward significantly in 2023 and bottom out then stabilize in to 2024. A housing crash is when home prices decline suddenly by a significant amount in a short period of time. A housing crash isn't clearly defined but you know when it happens. So in general, I would say a sudden decline or crash in prices by 20% over a span of 3 months would be a good guideline to say crash. I think prices will come down 20% in 2023 but it will be over the entire year, so I would say price correction. So a $500,000 home coming down to $400,000 is quite possible.
The average home price in June 2022 was $557,000, so if the average home price in June 2023 doesn't drop less than $445,600 then I'd say we had a significant housing correction. Currently as of March 2023 the average home price is $502,000 so we are half way there. So it's a relative measure and everyone's definition of a crash or correction is different. This would be a good thing for affordability of homes perhaps in the long run if interest rates eventually come down and buyers can refinance.
1. $23,000 Decrease in Average home price since last month.
Last month in February 2023 the average home price went down 23,000, although it went up $25,000 in January and down $27,000 in December. So over a span of 3 to 4 months the Average Home Price has not changed, it's just been oscillating up and down. Similarly the Median Home Price went down in February to $445,000, went up $5,000 in January, and was down in December. We hit the top of the market for Average home price at $563,000 in April 2022 and we hit the top for Median home price at $500,000 in June 2022. We can see overall that the market is declining slightly for sellers with 54 days on market. This is a lot longer than last year with an average 13 days on market. The inventory has declined over the last several months which is not too uncommon for winter months. The inventory is almost too low, hovering around 1000 homes on the market. The demand has dropped steeply with the higher interest rates but there is still fair demand even with low inventory. The supply and demand is showing that demand is still outpacing supply and so the Absorption rate or days of available inventory is declining. This favors sellers but sellers just have to get used to the fact that it will take longer to sell their home.
2. Days on Market Increases to 54 Days
In February the average days on market expectedly rose again up to 54 days on market. Lack of demand at the current prices has caused days on market to go up. What has also caused the increase of days on market is lack of inventory. Buyers can't find what they are looking for and may be waiting for prices to drop. I have several buyers that can't find what they are looking for below $400,000 and they are not willing to settle. Affordability with high interest rates is crushing demand but low inventory is keeping prices up. So with less demand, average days on market goes up. Throughout history 54 days on market is not that high and it is fairly normal.
3. 4% Decrease in Demand since last month, Supply decreased to 1021 Active Homes
Demand has decreased slower than the decreasing supply of homes coming on the market for February. This month there are 190 fewer Active homes on the market than last month hovering around 1021. About 1500 Active homes on the market in Colorado Springs is a healthy number. The decreasing supply of inventory has caused the Absorption rate to go down more than decreased demand. Absorption rate is the days of available homes on the market if no more were listed today. Last month the February home sales dropped 25% from the previous year. So a 4% decrease may not sound like a lot this month, but compared to last year it is significant.
Absorption Rate vs Days on Market
The Absorption rate number has increased over the last several months. This means a slower market because of lower demand since last year. In February, the Absorption rate number decreased which means a faster market due to less inventory. Typically when the Absorption number increases so does days on market and vice versa. However, that was not the case last month as days on market went up and Absorption rate went down. So this supply and demand curve will continue to push home prices lower. We'll look at supply and demand causes more in the paragraphs to come.
Days on Market is going up steadily because demand is slow. Savvy buyers are looking for deals, they know there are a certain percentage of sellers that are motivated to sell that will drop the price 10s of thousands to just move on with their lives. So, prices will continue to come down and sellers need to get ahead of the downward curve if they want to compete and get their home under contract.
Calculating Absorption Rate
By using what is called an Absorption Rate calculation we can best determine if we are in a Buyer's or Seller's market. Absorption Rate is a measurement of the rate at which a group of homes in a particular area get processed through the system. So, Absorption Rate does not measure inventory as to number of homes actively on the market. Absorption Rate measures inventory as to the number of days left of available homes. The current Housing Absorption Rate of 48 days means that if no more homes were listed on the market as of today, it would take just 48 days (30 days per month x 1.59 absorption rate) for all the homes currently listed to be sold. We use our Absorption Rate calculation in our Market Index formula to determine a score that expresses the type of market we are in.
4. 29% of Homes on the Market have had a Price Reduction.
What this means is that for Active homes on the market in February, 29% of the homes had a price decrease. Typically in a normal market, about 33% of homes on the market have a price decrease. Because demand is not there, prices are steadily coming down. Lack of inventory is more of a factor than lack of demand, so the Absorption rate or velocity of homes processing through the system has increased.
5. Colorado Springs Ranks # 1 Most Desirable Place to Live, # 2 Best Place to Live!
As of July 2022, it has been reported by US News & World Report that Colorado Springs ranks as their #2 Best Place to Live. There typically has been a shortage of available homes for sale in Colorado Springs because demand has been high. As a result of increased supply and the higher interest rates and higher home prices, there are less multiple offer situations.
Colorado Springs is ranked consistently as one of the best places to live according to U.S. News & World Report. Low supply and High demand for the limited number of homes available has caused an increase in home prices. There are certainly many things that have contributed to inflating home prices, but we won't discuss that here.
6. Economics affecting the Colorado Springs Housing Market
Our Economy has been run badly for the last 2 years by the Political class in power. The Federal Reserve is reacting to bad political policy and effectively correcting or crashing asset prices to "bring down inflation". Despite what the Fed is doing, it doesn't bring down energy and food prices which primarily impacts lower incomes.
You can see inflation's impacts with credit card debt that is at an all time high as reported by the Federal Reserve Bank of New York. American's credit card debt is now over 1Trillion. This is a $120 Billion increase since the same time last year, which is over a 15% increase. This correlates with what many call the real Inflation rate of likely around 15%, not what the Government is reporting of 6.4%.
What CAN WE EXPECT with the Colorado Springs Housing Market?
You could say that the Federal Reserve and the Government are cyclical and predictable. You may have heard the saying, Weak leaders bring hard times, Hard times bring strong leaders, Strong leaders bring good times, Good times bring Weak leaders, and they cycle continues. I believe we are heading further in to hard times so buckle up everyone, it may be a rough ride for a lot of people in 2023.
I do expect that the inventory will increase 30% as we get to June so we'll be at or over 1500 homes on the market. This would not be uncommon going in to the selling season. This will loosen up the market for buyers more and make for a better market for everyone.
7. Seller's Market or Buyer's Market?…is that the right question?
So is it a Seller's market or a Buyer's market? It really depends on your perspective right now. On paper it is a Seller's market, although a Slow Seller's market. Buyer's are not having to compete in multiple offer situations, so it is an easier buyer's market. Buyer's are able to offer several thousands below list price and there are many prices decreases on Active homes. However prices are still higher than they've ever been and most Sellers don't have to sell Short of what they owe. So, it is still a Seller's market although they won't get as much as they would have a year ago. It's really not a buyer's market as prices are still too high as are interest rates. So the Colorado Springs housing market is a sluggish at the moment. There are not enough homes and affordability for buyers is tough.
How the Absorption Rate impacts the Colorado Springs Housing Market?
So if the Absorption Rate (Inventory processing) is slow (higher number), that means there will be an increase in supply. This leads to a buyer's market. If Absorption Rate is fast (lower number), that means there will be a decrease in supply of homes. So, this leads to a seller's market. It is really a function of supply and demand where supply is the current inventory of homes and demand is what has been sold in a given time frame.
Absorption Rate is the best metric to determine if we are in a buyer's or seller's market. However, knowing average days on market, the percentage of recent price decreases, home price trends, and home sales trends are obviously good metrics to determine market conditions as well.
Updated by the 7th day of every month. Metrics for Single Family Homes in the Colorado Springs region of El Paso County. Data provided by Pikes Peak Realtor® Services Corp., Absorption Rate calculations provided by Wish Property Group, Inc.®